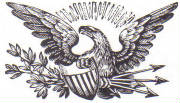 HEAD-QUARTERS SHALER'S BRIGADE
WHITE OAK CHURCH, VA., May 18

The Third Division of the Sixth Corps, General Newton commanding, was this morning reviewed by General Sedgwick, Commander of the Corps. The weather was unusually pleasant and the display was remarkably fine. The regiments in succession cheered the General as he sped along the front, and their unbounded enthusiasm was indicated by the hurling of hats high in the air, and by the savage demonstration of the Stentorian "Tigers". Many of the fluttering banners were rent as though in a holy war, and some of the commands in their thinned ranks, gave token of having stood, the brunt of the hottest contest. The shattered division fronts of the Andersons' would almost draw from the beholder a tear for the brave sons of New York who are with them no more; but the cheers of the valiant remnant were as full of fire as of yore, and the Empire State have done Herculean deeds in the cause of the Union, but none can inherit a higher renown than the Sixty-second N.Y., the veteran Anderson Zouaves...

SERGEANT DRILL


Source: Styple., W.B. (Ed) (2000) Writing and Fighting the Civil War : Soldier Correspondence to the New York Sunday Mercury. Belle Grove Publishing Co., Kearny N.J., p.191.