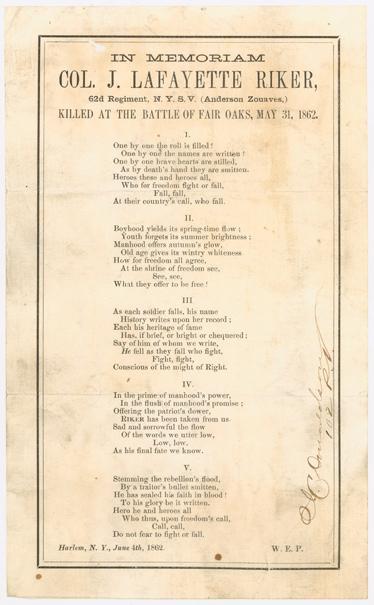 From the collection of Dee Sanders
Handbill printed in Harlem, N. Y., June 4, 1862 dedicated to the courage of Col. John Lafayette Riker who fell in Battle at Fair Oaks, Va., on May 31st, 1862.

It reads:

IN MEMORIAM, Col. J. Lafayette Riker, 62d Regiment N.Y.S.V. (Anderson Zouaves). Killed At The Battle Of Fair Oaks, May 31, 1862.

I.
One by one the roll is filled!
One by one the names are written!
One by one brave hearts are stilled,
As by death's hand they are smitten.
Heroes these and heroes all,
Who for freedom fight or fall,
Fall, fall,
As their country's call, who fall.

II.
Boyhood yields it spring-time flow;
Youth forgets its summer brightness;
Manhood offers autumn's glow,
Old age gives its wintry whiteness
Here for freedom all agree,
At the shrine of freedom see,
See, see,
What they offer to be free!

III.
As each soldier falls, his name
History writes upon her record;
Each his heritage of fame
Has, if brief or bright or chequered:
Say of him of whom we write,
He fell as they fall who fight,
Fight, fight,
Conscious of the the might of Right.

IV.
In the prime of manhood's power,
In the flush of manhood's promise:
Offering the patriot's dower,
RIKER has been taken from us
Sad and sorrowful the flow
Of the words we utter low,
Low, low,
As his final fate we know.

V.
Stemming the rebellion's flood,
By a traitor's bullet smitten,
He has sealed his faith in blood!
To his glory be it written.
Hero he and heroes all
Who thus, upon freedom's call,
Call, call,
Do not fear to fight or fall.

Harlem, N. Y., June 4th, 1862 W. E. P.

Originally owned by Pvt. John C. Donaldson of the 102nd Penn. Vol. whose unit was brigaded with the 62nd New York on that fateful day in May 1862. Riker was born in 1824, and resided in later life in New York City. He commanded the 62nd NYSV during the war, but was tragically killed at the Battle of Fair Oaks.