Memorial Stone on Easthampton's Old Town Hall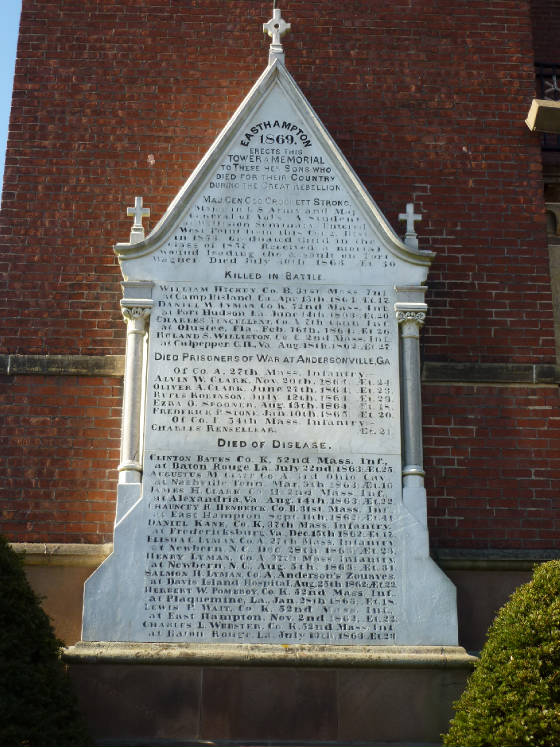 Includes Salmon H. Lyman's name
Salmon H. Lyman enlisted as a Private in the 62d NYSV at New York. He was one of three, (possibly four) Easthampton men to enlist in the Anderson Zouaves. P.W. Lyman states that Salmon H. Lyman, Albert S. Gove and Richard Goodsell all who enlisted in Co. H. Lewis S. Lyman Jr also enlisted in Co. H and may be a relative of Salmon H. Lyman and an Easthampton man.

P.W. Lyman states is his book, History of Easthampton, that Salmon H. Lyman was the;




"...son of Dennis Lyman, (and was) one of the first to volunteer, was the first to fall. In the first summer of the war, when the soldiers were rallying to the standard, he went to New York, joined the regiment known as the Anderson Zouaves, was home once on a furlough, spent one winter in camp, started out with McClellan on his Peninsular campaign, and fought at the battle of Williamsburg; soon after which be was taken sick, and removed to New York, where he died. His remains were brought to his home, where they were buried with military honors, on the 18th of September, 1862."

P.W. Lyman states that Salmon H. Lyman served for about one year, then took ill and died. He served with McClellan in the Penisula campaign and fought at the Battle of Williamsburg.
Easthampton's Old Town Hall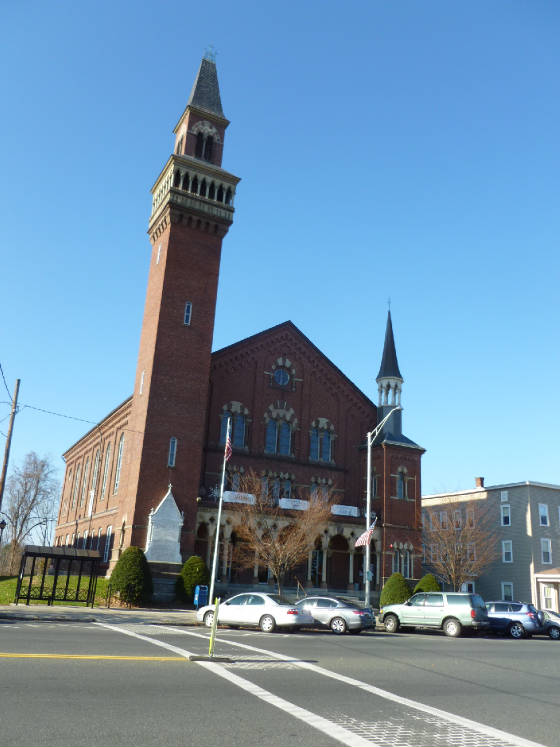 The memorial plaque is at the base of the tower
Easthampton honors it's fallen Civil War soldiers with a handsome bell tower and white Italian marble tablet on the southeast side of the Easthampton's Old Town Hall. The pentagonal tablet is on the lower east face of Victorian Italianate style bell tower which was designed by Charles Parker and completed in June 1869.




The marble tablet features three small crosses and two small columns. It is inscribed with the soldier's name, company, regiment, and the cause, place, date and age of death.:
EASTHAMPTON
1869.
ERECTS THIS
TOWER A MEMORIAL
TO THESE HER SONS WHO
DIED FOR THEIR COUNTRY
DURING THE GREAT REBELLION

MAJ. GEN. GEO CROCKETT STRONG
Major in U.S. Army and Maj.
General of Vols. A student
at Williston Seminary. Entered
West Point from this Cong. Dist.
in 1853. Graduated third in the
class of 1857. Received a mortal
wound leading the assault on Fort
Wagner. Died July 30th 1863 AEt 30

KILLED IN BATTLE

William Hickey, Co. B, 31st Mass. Inf.
at Camp Bisland, La, Apr. 13th, 1863: AEt 17

Daniel W. Lyman, Co. K, 52nd Mass. Inf.
at Port Hudson, La June 14th, 1863: AEt 20

Charles Tencellent, Co. A 7th Conn. Inf.
at Olustee, Fla, Feb. 16th, 1864: AEt 26

Roland S. Williston, Co C, 2nd Mass. Inf.
at Culpepper C.H., Va. Aug. 18th, 1862; AEt 27

DIED PRISONERS OF WAR AT ANDERSONVILLE, Ga.

Of Co. A, 27th Mass. Infantry:-

Alvin W. Clark, Nov. 20th, 1864; AEt 24

Oliver A. Clark, June 27th, 1864; AEt 23

Rufus Robinson, July 12th, 1864; AEt 29

Ezra O. Spooner, Aug. 13th, 1864; AEt 18

Fredrick P. Stone, Jan. 10th, 1865; AEt 20

Of Co. F 54th Mass. Infantry

Charles Rensellear AEt 21

DIED OF DISEASE

Clinton Bates Co. K, 52nd Mass. Inf.,
at Baton Rouge, La., July 22nd, 1863 AEt 25

Augustus M. Clapp Co. A, 3rd Ohio Cav.
at Nashville, Tenn. Mar. 9th, 1863 AEt 16

James H. Clark Co. H, 2nd Mass. Inf.
at Alexandria, Va. Aug. 14th, 1863 AEt 22

Chauncey R. Hendricks, Co. B, 31st Mass Inf.
at East Hampton Sept. 11th, 1862 AE 41

Daniel Kane, Co. K 37th Mass. Infantry
at Fredricksburg, Va. Dec. 15th, 1862 AEt 17

Elisha C. Lyman, Co. A, 27th Mass. Infantry
at newbern, N.C. Dec. 28th, 1863 AEt 23

Henry Lyman, Co. A, 27th Mass. Infantry
at Newbern, N.C. Aug. 5th, 1863 AEt 31

Salmon H, Lyman, Co A, Anderson's Zouaves
at Davis Island Hospital, Aug. 25th, 1862 AEt 22

Herbert W. Pomeroy, Co. K, 52nd Mass. Inf.
at Plaquemine, La. Jan.28th, 1863 AEt 18

Lewis P. Wait, Co. K, 52nd Mass. Inf.
at East Hampton, Nov. 2nd, 1862 AEt 22

Charles L. Webster, Co. K, 52nd Mass. Inf.
at Baton Rouge, La. July 19th, 1863 AEt 23